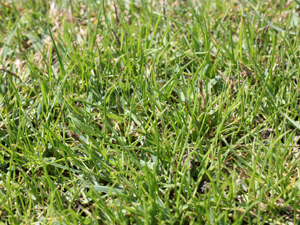 Due to restrictions in supply due to NSW floods we are accessing these turf varieties form Sth East Qld. Supply will only be available as we fill full truck loads.
As the name suggests, Nara is a native born Aussie. It's been developed for our conditions and will suit you if you want a low maintenance lawn turf, that's also good on the environment because it needs less water and less mowing. Nara has a fine texture, and a beautiful appearance which is one of the main reasons people choose this turf.
Nara Native Turf is a great all purpose turf that can handle many conditions. It is the only general purpose native turf and is the perfect compliment for any native garden or landscape.
Nara is native to Australia, from northern Queensland all the way down to Tasmania, to the centre of Australia and Adelaide. Zoysia macrantha is well suited to most parts including Perth, where it has performed very well, making it ideal for your local Australian lawn.
Based on our research, Nara will require about 20% less mowing than buffalo, 35% less than couch and 55% less than Kikuyu.
Nara can be mown exactly how you would mow couch, Kikuyu or Buffalo. Short medium or long. In general though, it's better to not mow too short as this will stress all lawns no matter the grass type. (Especially in drought). Nara will scalp less than Couch when mown.
Nara is less invasive than other turfs so you won't have to edge as often.
Nara is a Zoysia macrantha, which is only found in Australia. It will generally require only once a year fertilising except in high wear conditions where twice a year is recommended.
Download our brochure
Size: Rolls come in roughly 300mm width and 750mm length. Order by the square metre and cut to shape.
Type: NARA® is an all purpose Australian Native coastal turf similar to most Zoysia types. It is very salt tolerant but grows well inland too.
Use: NARA is great for coastal suburbs and broad lawns that are exposed to full sunlight. If you want a low maintenance drought resistant native grass in Melbourne, this is the best for you.
Shape: Nara is a fine textured rich lawn. It needs far less mowing than Buffalo, Couch and Kikuyu. It prefers to be installed when the weather is not too cold and in part to full sunlight – not shade. It requires only two slow release fertilizer applications per year to prosper.
Support Products:
Fertilizing starter, Paver edging, Link Edging, Retaining Walls
Similar Products:
Natural: Santa Ana Couch
Synthetic: Premium Gold
We recommend to avoid installing this grass during the following dates
ACT (including similar colder climates such as Bathurst, Armidale and Ballarat): from 15th March-15th September
VIC, SA & WA (for colder climates such as Ballarat please see above): from 25th April-25th August
Please note the dates below are to be used as a guide only. If it becomes cold quicker than usual, or stays cold longer than usual please use your judgement as to when the turf has started to come into/out of dormancy (if unsure please ask a Supernatural Grass representative).
Delivery of $165 (within 45km CBD) outside CBD will need to be quoted.